Hey my friend

Do any of the following ring true for you?

► You often think to yourself: "I REALLY NEED A LIFE COACH" but the idea of signing up for a full life coaching program seems too much.
► You want to find a solution or embrace a different way of thinking about a current hurdle / obstacle / struggle that exists in your life but you wish you could do it in a simple, low-commitment way.
► You know you need to talk your problem through with someone but you feel like your partner, parents, siblings etc aren't able to offer you the objective outside perspective you're hoping for.

► Finally, you know that your life would be so much easier if you just could solve this issue because this messy mind drama is negatively impacting your life.
If any of the above resonates with you, take a deep breath because I have your back.
The UNTANGLE YOUR BRAIN VOXER DAY COACHING OFFER is a special offer created for all the introverts who prefer the flexibility of a one-off commitment when it comes to laser-focused, problem-solving, strategic-based coaching.


LET'S TALK ABOUT WHO THIS OFFER IS FOR


► It's perfect for introverts who prefer to be coached without showing up on video or at a set time (you can do this in your PJs my friend!).
► It's for clients who want to tap into the expertise of a certified life coach with 20+ years experience, without having to commit to a 3-month program (this is just a casual one-day flexible commitment).
► It's for anyone who desires honest feedback, objective insights, mindset breakthroughs and tangible strategies to help them move forward in life (you just want to know the next step you should take to solve this problem ASAP!)
► Finally, it's for anyone who feels stuck in any of the following areas: business, career, relationships, health, money, mindset and/or achieving their goals and is READY TO END THE STRUGGLE TODAY.





But wait! But I don't even know what VOXER is!
It's okay! I myself have only just discovered the beauty and simplicity of this platform to deliver coaching.
In a nutshell, Voxer is a free walkie-talkie app that allows us to exchange both voice and text messages to each other.
During your nominated UNTANGLE YOUR BRAIN VOXER COACHING DAY, we will be in touch via Voxer on and off to discuss and problem-solve any issue that you want me to help you with.
STEP 1: You choose a day for your Voxer Coaching.
PLEASE NOTE: your diary DOES NOT NEED TO BE TOTALLY CLEAR for Voxer coaching to take place.
Honestly it can be any day that works well for you. You can literally do this type of coaching while you're out running errands, going for a walk, before and after other scheduled commitments and also while taking care of kids etc (I'm a mom myself so I know exactly what life looks like with kids at home).
All you need for a successful Voxer coaching day to take place is the ability to listen and reply to messages at your own leisure, and ideally with a clear mind to think and process what we're discussing.
STEP 2: You download the free Voxer app and read over the two PDFs that are available for you to download after making your purchase.
PDF 1 spells out exactly how to download the app, how we can add each other on Voxer and how we can also send each other messages on the day.
PDF 2 includes a link to a form where you can share with me what you would specifically like help with and any info you think would be helpful for me to know in advance.
STEP 3: Enjoy your Voxer Day Coaching Experience!


When your designated Voxer Coaching Day arrives, I'll be available for coaching from 8:30am to 6:30pm Sydney Australia Time (time zone GMT +10).
Please note: I've kept my coaching times open longer to accommodate those in a different time zones (rather than doing a 2-hour coaching window) however the goal isn't to be glued to your phone for 10 hours straight.
You're definitely not expected or supposed to drop everything for this type of coaching. Instead, the goal is to live your life as normal and throughout the day at a steady and relaxed pace, we will exchange messages via text and voice memos.
There will no doubt be gaps throughout this time period as you attend to other important life and work stuff and THAT'S TOTALLY OKAY.
You'll still have plenty of time to ask questions, journal, think, reflect, listen to my coaching, respond again - rinse and repeat - until you come to mental space where our time together feels complete.






HERE'S WHAT VOXER COACHING CAN BE USED FOR

I CAN HELP YOU:

► Step back to see the bigger vision picture of your life and embrace a different perspective. #letsidentifyyourtruepriorities

► Change the way you think about any problem you're currently struggling with in life #massivemindsetshifts


► Identify your blindspots and what you may be missing. FYI: as a neutral and honest observer, my one and only job is to guide you towards your goal #lookingfromtheoutsidein

► Finally, I can help you decide your next right step and offer you simple yet effective actions to embrace moving forward #itstimetotakeaction



Looking for help with something special?


MY EXPERTISE AS A COACH LIES IN THE FOLLOWING AREAS:
► Mindset, planning and productivity
► Goal-setting and brainstorming strategies to move you closer to your goal
► Overcoming self-sabotage and limiting beliefs
► Creating more harmonious relationships with yourself and/or significant others
► Business growth and planning
► Parenting and health goals
► Support whilst facing your fears and stepping outside your outside zone
► Coaching in a compassionate way that empowers the client to confidently do what needs to be done
* If you need help, please don't be afraid to ask for it

My job as a coach is to lovingly help you get crystal clear clarity on how to take the next step towards your specific goal



IN A NUTSHELL THE UNTANGLE YOUR BRAIN VOXER DAY COACHING IS:



► Tailored to your specific needs
► 100% confidential
► A low-commitment yet high-return investment (versus my $2000 3-month coaching program)
► The quickest way to get a new perspective and actionable steps to take moving forward
► A fun, casual way to experience laser-focused coaching
► The best opportunity to ask me anything and get your questions answered within that day
SOME COMMON QUESTIONS ANSWERED HERE FOR YOU


Q: I LIVE IN A COMPLETELY DIFFERENT TIMEZONE FROM YOU AND WOULDN'T BE AVAILABLE FOR THE FULL 10 HOURS. WILL THIS STILL WORK?



► Absolutely! The reason I have kept the window of coaching wider is because I know that the bulk of my clients are not in the Sydney time zone. Ideally you will be free for 2-3 hours of this time slot so that you can come and get exactly what you need from this investment.
► The goal is NOT for us to be obsessively chatting for 10 hours straight, otherwise the cost of this offer would be much higher (but if you want to keep asking questions during this time, that's also fine!)
Q: I'M FEELING NERVOUS ABOUT JUMPING IN BECAUSE I'VE NEVER DONE SOMETHING LIKE THIS BEFORE. IS THIS A NORMAL FEELING?



► Yes again! It's absolutely normal to feel a little nervous before doing anything new. But please put your faith in me. You are in good hands. I will do my best to make this experience for you as valuable and life-changing as possible.
Q: I HAVE SOME MORE QUESTIONS TO ASK YOU. WHAT'S THE BEST WAY TO CONTACT YOU?



► The best way to do so is to email me at hi @ inspiringlifedreams.com and I will do my best to respond to you as quickly as possible.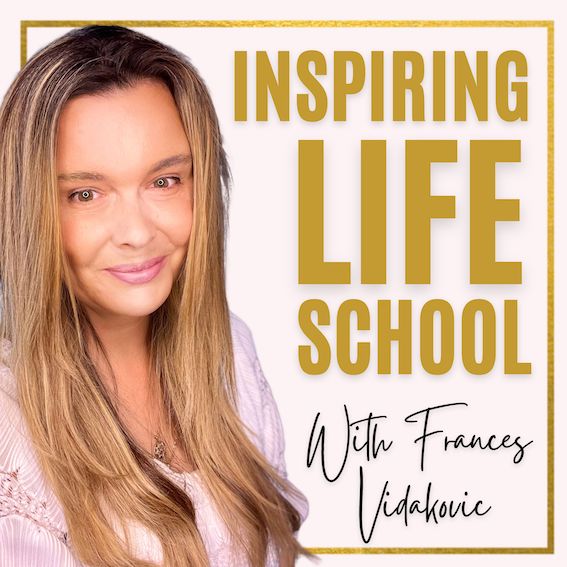 Hi, I'm Frances Vidakovic

I'm a certified life coach with a degree in psychology, host of the INSPIRING LIFE SCHOOL podcast, course creator and CEO of the award-winning website InspiringMomLife.
I help women manage their mind, time and life better so that they can finally live life without regret. My one true superpower? Transforming dreamers into doers.